$0.00
14k Emerald and Diamond Cluster Ring
MEASURE THE INTERNAL DIAMETER OF YOUR FAVORITE RING WITH A RULER
(IN MM)
×
| Inside Diameter | Inside Circumference | Sizes | | | | | |
| --- | --- | --- | --- | --- | --- | --- | --- |
| MM | Inches | MM | Inches | British & Australian | US & Canada | French | German |
| 9.91 | 0.39 | 31.13 | 1.22 | - | 0 | - | - |
| 10.72 | 0.442 | 33.68 | 1.39 | - | 0 | - | - |
| 11.53 | 0.454 | 36.22 | 1.43 | - | 0 | - | - |
| 11.95 | 0.474 | 37.54 | 1.49 | A | 1/2/2018 | - | - |
| 12.18 | 0.482 | 38.26 | 1.51 | A 1/2 | 3/4/2018 | - | - |
| 12.37 | 0.487 | 38.86 | 1.53 | B | 1 | - | - |
| 12.6 | 0.496 | 39.58 | 1.56 | B 1/2 | 1 1/4 | - | - |
| 12.78 | 0.503 | 40.15 | 1.58 | C | 1 1/2 | - | - |
| 13 | 0.512 | 40.84 | 1.61 | C 1/2 | 1 3/4 | - | - |
| 13.21 | 0.52 | 41.5 | 1.63 | D | 2 | 41 1/2 | 13 1/2 |
| 13.41 | 0.528 | 42.13 | 1.66 | D 1/2 | 2 1/4 | - | - |
| 13.61 | 0.536 | 42.76 | 1.68 | E | 2 1/2 | 42 3/4 | 13 3/4 |
| 13.83 | 0.544 | 43.45 | 1.71 | E 1/2 | 2 3/4 | - | - |
| 14.05 | 0.553 | 44.14 | 1.74 | F | 3 | 44 | 14 |
| 14.15 | 0.557 | 44.45 | 1.75 | F 1/2 | 3 1/8 | - | - |
| 14.25 | 0.561 | 44.77 | 1.76 | F 3/4 | 3 1/4 | - | - |
| 14.36 | 0.565 | 45.11 | 1.77 | G | 3 3/8 | 45 1/4 | - |
| 14.45 | 0.569 | 45.4 | 1.79 | G 1/4 | 3 1/2 | - | 14 1/2 |
| 14.56 | 0.573 | 45.74 | 1.8 | G 1/4 | 3 5/8 | - | - |
| 14.65 | 0.577 | 46.02 | 1.81 | H | 3 3/4 | 46 1/2 | - |
| 14.86 | 0.585 | 46.68 | 1.84 | H 1/2 | 4 | - | 15 |
| 15.04 | 0.592 | 47.25 | 1.86 | I | 4 1/4 | 47 3/4 | - |
| 15.27 | 0.601 | 47.97 | 1.89 | I 1/2 | 4 1/2 | - | 15 1/4 |
| 15.4 | 0.606 | 48.38 | 1.9 | J | 4 5/8 | 49 | 15 1/2 |
| 15.53 | 0.611 | 48.79 | 1.92 | J 1/4 | 4 3/4 | - | - |
| 15.7 | 0.618 | 49.32 | 1.94 | J 1/2 | 5 | - | 15 3/4 |
| 15.8 | 0.622 | 49.64 | 1.95 | K | 5 1/8 | 50 | - |
| 15.9 | 0.626 | 49.95 | 1.97 | K 1/4 | 5 1/4 | - | - |
| 16 | 0.63 | 50.27 | 1.98 | K 1/2 | 5 3/8 | - | - |
| 16.1 | 0.634 | 50.58 | 1.99 | L | 5 1/2 | 51 3/4 | 16 |
| 16.3 | 0.642 | 51.21 | 2.02 | L 1/4 | 5 3/4 | - | - |
| 16.41 | 0.646 | 51.55 | 2.03 | L 1/2 | 5 7/8 | - | - |
| 16.51 | 0.65 | 51.87 | 2.04 | M | 6 | 52 3/4 | 16 1/2 |
| 16.71 | 0.658 | 52.5 | 2.07 | M 1/2 | 6 1/4 | - | - |
| 16.92 | 0.666 | 53.16 | 2.09 | N | 6 1/2 | 54 | 17 |
| 17.13 | 0.674 | 53.82 | 2.12 | N 1/2 | 6 3/4 | - | - |
| 17.35 | 0.683 | 54.51 | 2.15 | O | 7 | 55 1/4 | 17 1/4 |
| 17.45 | 0.687 | 54.82 | 2.16 | O 1/2 | 7 1/4 | - | - |
| 17.75 | 0.699 | 55.76 | 2.2 | P | 7 1/2 | 56 1/2 | 17 3/4 |
| 17.97 | 0.707 | 56.45 | 2.22 | P 1/2 | 7 3/4 | - | - |
| 18.19 | 0.716 | 57.15 | 2.25 | Q | 8 | 57 3/4 | 18 |
| 18.35 | 0.722 | 57.65 | 2.27 | Q 1/2 | 8 1/4 | - | - |
| 18.53 | 0.729 | 58.21 | 2.29 | Q 3/4 | 8 1/2 | - | 18 1/2 |
| 18.61 | 0.733 | 58.47 | 2.3 | R | 8 5/8 | 59 | - |
| 18.69 | 0.736 | 58.72 | 2.31 | R 1/4 | 8 3/4 | - | - |
| 18.8 | 0.74 | 59.06 | 2.32 | R 1/2 | 8 7/8 | - | - |
| 18.89 | 0.748 | 59.34 | 2.35 | R 3/4 | 9 | - | 19 |
| 19.1 | 0.752 | 60 | 2.36 | S | 9 1/8 | 60 1/4 | - |
| 19.22 | 0.757 | 60.38 | 2.38 | S 1/4 | 9 1/4 | - | - |
| 19.31 | 0.76 | 60.66 | 2.39 | S 1/2 | 9 3/8 | - | - |
| 19.41 | 0.764 | 60.98 | 2.4 | S 3/4 | 9 1/2 | - | 19 1/2 |
| 19.51 | 0.768 | 61.29 | 2.41 | T | 9 5/8 | 61 1/2 | - |
| 19.62 | 0.772 | 61.64 | 2.43 | T 1/4 | 9 3/4 | - | - |
| 19.84 | 0.781 | 62.33 | 2.45 | T 1/2 | 10 | - | 20 |
HOW TO MEASURE RING SIZE?
1. Take the tip or end of a sewing thread and wrap it around your finger until it meets or connects together. Then mark that position of the material.
2. Measure the length of the thread with a regular ruler in mm.
3. Take the measured length of the material that you have calculated and refer the below chart to find your size. (Note - In case the length of your string falls between any of these measurements, choose the closest size.)
×
RETURN & SHIPPING
Processing time
All Ferko's Fine Jewelry styles are carefully handmade to order. Since each piece is made-to-order, we ask that you allow 7-10 business days (excluding weekends) before we ship your order. If you need to meet a certain deadline or need expedited shipping, We may be able to accommodate your request. Please email us at customercare@ferkosfinejewelry.com
 Returns
 We gladly accept returns and exchanges.

Just contact me within: 5 days of delivery, and ship items back to me within: 14 days of delivery

The following items can't be returned or exchanged
Because of the nature of these items, unless they arrive damaged or defective, I can't accept returns or exchanges for:
Custom or personalized orders
Full Eternity Bands
Items on Sale
Items purchased during Sales Events
Conditions of Return
Buyers are responsible for return shipping costs. The items must be shipped back in its original condition and packaging.
Customer Reviews
Write a Review
Ask a Question
01/06/2020
Anonymous
United States
Beautiful Ring
Beautiful ring. Small and dainty. Well made. Beautiful gems.
06/15/2019
Anonymous
United States
25th birthday present for my daughter
My daughter had picked out the ring I had purchased. It was very easy to place the order. The updates were great so I could track the item. And she absolutely loved it! The size was perfect and the ring matched the described item beautifully. I would definitely purchase from you again.
01/23/2019
Anonymous
United States
01/10/2019
Sarah P.
United States
Beautiful ring, you must be gentle with it
My husband gave me this ring for Christmas as a replacement to my original engagement ring (I've lost weight and it no longer fits). The ring is beautiful, but on my third day wearing it I lost one of the stones. I work in new home sales and spend my days doing very light admin work. The ring now spends its days on my ring holder and is a stunning decoration but I'm nervous to wear it anymore.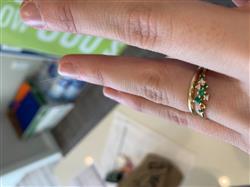 12/26/2018
Megan B.
United States
What a find!
I was pleasantly surprised by my recent purchase from Ferko's. This particular ring was well made and even more, beautiful in person. I will definitely be buying more pieces from them.